Virecta 100 MG Information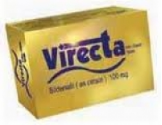 There has been an explosion of treatments that are used to help alleviate the symptoms of Erectile Dysfunction, or commonly referred as ED. Besides the worldwide leader which we all know of, there have been several products that have come out since "The big V's" patent ran out not too long ago. They all pretty much use the same ingredient, and one of the latest products we found is called Virecta. Primarily marketed to a South African market, this product is manufactured by a company called Eva Pharma.
What is Virecta?
Based on a pharmaceutical preparation, Virecta contains the powerful ingredient Sildenafil Citrate, which is the active ingredient in several other types of prescription ed medications. While it appears that you need to have a prescription in order to buy Virecta, there are a number of online pharmacies that seem to be illegally selling it. For instance, the website American Trust Pharmacy sells it for about $0.69 per pill, which offers a worldwide shipping guarantee.
It also seems that Virecta is not available in the US, but that doesn't really matter because there are several other products that are available containing the same active ingredient.
How Does Virecta Work?
Virecta is designed to be taken 1 – 2 hours before sexual activity, and you should take either one-half or a full pill, which consists of 100 mg. It also only works when you are sexually stimulated. Unlike many of the all natural products that are featured on this site, Virecta does require a prescription from a licensed physician.
Based on how other generic drugs of it's kind work, we can conclude that the ingredients in Virecta cause the release of Nitric Oxide production, which is necessary during sexual stimulation. This release of Nitric Oxide allows blood to flow more freely to the penis during an erection, causing increased stimulation and sensation.
During an erection, 2 chambers called the corpora Cavernosa widen to allow this increase in blood flow. It is then trapped in the chambers, allowing for a full erection during sexual activity.
The diagram below gives an accurate picture of how it is supposed to work: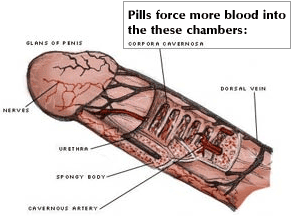 Pro's of  Virecta
Based on Scientific Evidence
Uses clinically proven ingredients
Cheap generic alternative to many other products
Con's of  Virecta
Requires a doctors prescription
Does not appear to be sold in the US
Could not find any doctor testimonials
No customer reviews available
Recommendation
The main issue with products such as Virecta is the sheer amount of side effects that can result from ingestion. Common side effects include: flushed face, headaches, diarrhea, dizziness, rash, and blurred vision. This is just a small sample of the side effects associated with it, which is why the focus of this site is on all natural therapies. You should also not take Virecta if you suffer from any heart conditions, and be sure to check with your doctor if you have any health condition or are taking any medications.
Leave Your Review of Virecta Below!