I've never been a huge fan of "fast acting" male enhancement pills for many reasons. 1.) They tend to contain some sort of stimulant like yohimbe that I don't respond well to. 2.) You have to take them when the mood is right, which is not always convenient. and 3.) Many of them simply don't work.
With that said, I am up to trying out just about any supplement out there, including the fast acting ones. Recently I was contacted by the makers of a supplement called Merevex, which is the focus of this review.
Throughout this review I'll talk about what it does, the ingredients, potential side effects, where to buy, and more. If you'd like to just skip all of that simply click here and it will jump to my personal results.
What is Merevex?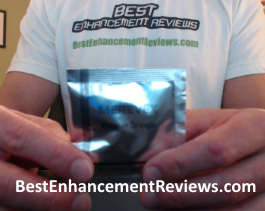 Sold by a company called Robbins Enterprises International, Inc., Merevex is a male dietary supplement designed to help you achieve increased erection quality, stamina, and control.
It's designed to start working within an hour, and the directions on the label state that you should take 1 capsule prior to sexual activity.
It's also made of pharmaceutical grade quality ingredients, those of which I'll touch on below.
Ingredients and How It Works
As I stated in the beginning of this review, I'm not a big fan of ANYTHING that contains yohimbe. That goes for male enhancers, pre workout supplements, weight loss pills, etc.
While it works at producing great boners, the side effects of yohimbe are just not worth it.
It was VERY refreshing to see that Merevex doesn't contain any yohimbe at all.
Instead, it contains a unique and proprietary blend of ingredients that include Fructus Lycii, Fios Caryophylli, Radix Rehmanniae, Semen Ziziphi spinosae, Cortex Cinnamomi, Semen Sesami nigrum, Semen Alli Tuberosi, Poria, Fructus Foeniculi, Herba Epimedii, Radix Peurariae lobatae, Rhizome dioscorae, Rhizoma polygonati, and Rhizoma curculigimis.
I have to say that in all my years of testing literally dozens of male enhancement supplements, I have never even heard of 80% of these ingredients. In fact, it just took me about 5 minutes to get these ingredients down on paper 🙂
Typically you'll see ingredients like ginseng, gingko biloba, l-arginine, yohimbe, etc. in sexual performance supplements.
Not so in Merevex.
As far as how it works, there's not a whole lot of information out there on it. Obviously the ingredients work to stimulate your senses to the point that you start to get horny.
It doesn't contain any testosterone boosting type ingredients, such its not a case of your t levels increasing.
Frequently Asked Questions
Who makes it?
Merevex is sold via Robbins Enterprises International, Inc., an S Corp registered with the state of Florida.  It's also one of the only (if not THE only) male enhancement pill I've ever seen that is registered with the FDA.
That's not to say it's APPROVED by the FDA.  No supplement is.
How long does it take to work?
The label suggests that you take it 1 hour prior to sexual activity, but I seemed to notice the effects much quicker than that (See below.).
Is it sold in stores?
At the moment, no. I asked the company directly and they told me it's not available in stores yet. It's unclear whether or not it ever will be, but if I find out I will update this review.
Can you take it with alcohol?
According to them (and I can attest to it), Merevex still works well with moderate alcohol consumption.
Can women take it?
It's not intended (or work) for women.
Do I need to take it on an empty or full stomach?
Doesn't matter. Food and alcohol seem to have no effect.
Where can I buy it?
As of this review, Merevex is only available on their official website www.merevex.com. A single pill retails at $9.95, and includes free shipping.
You can save money by ordering larger quantities, with 10 pack retailing at $62.95 (or $6.30 per pill).
My Personal Results
I'm always apprehensive about testing new supplements out. I can't tell you how many times I've gotten sick, dizzy, headaches, nausea, and just terrible side effects from the dozens of male enhancement supplements I've tested over the years.
I approached my experiment with excitement, but also with a bit of caution. Typically I need some sort of visual stimulation to get me aroused.
This was not the case with Merevex. Literally 30 min. after taking 1 capsule I could feel it beginning to work. Since my wife works from home with me, I had the advantage of "testing it out" right away.
Let me just say this….sex…was….AMAZING on this stuff!
I don't want to get too graphic, but I could literally feel my penis throbbing at the site of my half naked wife. She even remarked to me that I seemed to feel a bit bigger / meatier than usual.
As far as helping me last longer, I am a bit mixed on this. It's not like I break out my stopwatch during my sexual romps or anything. I guess I would say I typically last about 15 min. or so during sex before I hit an orgasm.
What's weird is the first day I took it I actually seemed to orgasm a little bit quicker than usual, probably 10 minutes in or so.  Even weirder still, we had sex the following day and I lasted 20 minutes or so.
I don't know if it was a delayed reaction or what, but I've never experienced that before.
Recommendation
I think my personal results say it all.  This stuff works, period. I didn't experience any nasty side effects, and it definitely helped improve my overall libido and performance.
The price may be a bit on the high side, but if you're looking to satisfy your partner with a rock hard erection, than I highly recommend giving it a shot.
Have You Used Merevex? Leave Your Review Below!