Note:  This is just a review.  Click Here to visit the official Phallosan Forte website.
I had a guy email us concerning a product called Phallosan, and to be honest up until this time, I had never even heard of this product.
The gentlemen in question had actually purchased the Size Genetics extender, and wanted to know if he could use Phallosan at night when he took off his extender.
Talk about dedication to elongation!
Anyway, we just had to see what this product was all about, so we did a little bit of research on it to see how it works, customer reviews and testimonials, where to buy and more.
Click Here to jump to my results and FAQ.
What is Phallosan?
Phallosan is a penis enlargement and straightening system which uses a unique approach of both stretching and vacuum technology. It works by strapping on a "condom like" device, and sucking the air out of it with a small hand driven pump.
An orthopedic belt is worn around the waist, and connects to one side of the tip of the penis to provide stretching (or traction). Very similar to the way an extender device works, but not exactly.
The theory goes that, over time, the constant stretching from the Phallosan device will help you grown both in length as well as girth, with some users seeing a gain of almost 2 inches (length) in 6 months.
Obviously, this is with continuous use, and I would imagine that would mean anywhere between 8 – 12 hours a day.
What is very interesting about Phallosan is that it looks quite comfortable.
Having used several penis traction devices before, such as the Size Genetics Extender or the ProExtender Device, I can attest that some of them are difficult to put together, or even start using for the first time. Phallosan, at least from the official site, looks very easy to use, and there does not appear to be any plastic parts.
Phallosan Warnings and Side Effects
As with any traction or lengthening device, you should follow the manufacturers instructions for use, or risk getting some nasty side effects.
One thing the makers of Phallosan note is that you should set the tension to a gentle pulling level when first strapping on the device.
This is important with any enlargement device, including ones like the Proextender System, and too much tension can result in a number of ailments including redding of the penis head and soreness.
Phallosan Clinical Study
The manufacturers of Phallosan also claim that their product was involved in a clinical study proving that the use of the device can effectively enlarge the penis.
The study, which was conducted by a German Urological Clinic, involved patients between the ages of 20 and 68. According to them, all patients experienced a gain in size and girth, and one patient who had peyronies disease reported a decrease in his curvature.
Whether or not Phallosan will help to straighten a curved penis effectively for all men remains a mystery.
Participants in this study also reported an increase in the intensity of their erections, and a reduction in premature ejaculation.
Phallosan Reviews
Reviewers of Phallosan report that, when compared to other devices in the industry, it is actually quite comfortable and easy to use. While some reviews on forums reported a slight soreness, as well as a reddening and swelling of the glans, in general reviews were favorable.
We believe that this soreness was due to too much tension. We could not find any independent information on results men received from using Phallosan.
Using Phallosan at Night
There are several guys that have asked me whether or not you can use Phallosan at night. I would not recommend this, because the average male goes through about 3 – 5 erections throughout the night, which could cause some issues with using Phallosan.
Although comfortable when semi-erect or not erect at all, getting an erection while wearing Phallosan can prove very uncomfortable.
My Results With The Phallosan Device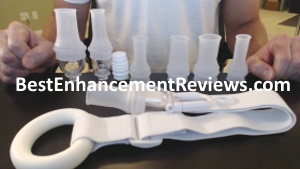 I finally got a chance to trying the Phallosan out, and I have to say when compared to extenders this thing KICKS ASS.  It's very easy to put on once you get through the instructions, and after a little while you practically don't even feel it!
Finding a comfortable device like this is VERY important for one simple reason…if it's not comfortable you won't want to wear it.  And if you don't wear it, then…you don't see any results!
I wore it for about a month for upwards of 12 hours a day and I have to say I'm impressed with the results.  I gained a solid 1/2 inch in length (no girth increase) and I could definetly see one gaining MUCH more than that if worn for several months.
I mentioned earlier in the review that it shouldn't be worn at night, so I decided to give that a test.  I wore it for a few nights and to be honest I didn't feel any pain and nor did it make me feel uncomfortable.
There was one night where the condom must have popped off the belt, because when I woke up it was completely detached.  It didn't wake me up or anything, I just noticed it when I woke up.
Pro's
It's VERY comfortable.  I can't stress this enough.
Good quality design.  They definitely put a lot of thought into building it.
Can be worn at night
Hides discreetly under clothing, unlike extender devices.
Ships discreetly so the mailman or your roommates don't know that you ordered a penis extender 🙂
Con's
A bit on the expensive side
They don't sell it in stores
Frequently Asked Questions I Get
How do I put it on?
The makers of Phallosan Forte provide VERY detailed instructions on how to use it.  The first time it takes a bit of a learning curve, but after using it a few times it will LITERALLY take you 30 – 60 sec. to put it on.
Here's a detailed video they made showing the process:
How do I prevent blisters / chaffing?
I mentioned earlier in the review that some guys were complaining that they were getting blisters.
I didn't experience that at all, and the reason why is because I would almost ALWAYS put on a small dab of vaseline on the head of my penis before putting it on.
This will virtually eliminate any chance of getting blisters.
Can I wear this to work / when I'm out and about?
Absolutely.  This is one of the key benefits of the Phallosan Forte.  Extenders can also be worn out, but unless you're wearing VERY loose fitting clothing you'll likely see a bulge popping out.
Because of the construction / design of the device, it literally runs your penis up along your body, firmly tucking it into place.
The only way someone would know you are wearing it is if they grabbed your crotch 🙂
Can I wear it at night?
I touched on this above already, but it's still a very common question that should be included here.  I only tried wearing it at night a few times, but never experienced any issues.
In fact, once you get used to wearing it you almost forget it's even on.
Can I use it if I'm uncircumcised?
Yes.  I am cut, but I've read stories of guys who are uncircumcised and having absolutely no issues with it.
Does this help for both Length AND Girth?
From what I understand, the Phallosan Forte only works for length gains.  As a matter of fact, because it is pulling your penis away from your body then there's a good chance that you may even see a REDUCTION in girth.
This is why I recommend, if you can afford it, to pick up a Bathmate Hydromax and use it for about 10 – 15 min. a day to help with girth gains.
Check out my review of the Bathmate here.
Can it help with someone who has a curved penis?
According to them, yes.  I don't have a curved penis so I can't speak from experience.  However, the literature on their site suggests that it can help with men suffering from Peyronies disease, and I believe it.
The results you'll get will vary depending on the individual, but I've read reports of men with up to 30% curvature seeing dramatic changes.
Where Can I Buy It?

Phallosan is sold on their official website, www.phallosan.com. It currently retails at around $339 plus the cost of shipping ($25).  Phallosan does provide a return guarantee, allowing you 14 days to return it.
However, due to hygienic reasons the seals cannot be broken, so if you change you're mind do so before opening it up!
Conclusion
Simply put, it works! I firmly believe that with consistent / persistent use, the Phallosan Forte can work for just about any man looking to gain size.
The fact that it is so comfortable cannot be stressed enough.  I have tested dozens of extenders and pumps, and the Phallosan is by FAR the most comfortable device I have ever worn.
If you're looking for a solid quality product that WILL produce results, then definitely consider picking up one of these!
Leave Your Review of Phallosan Below