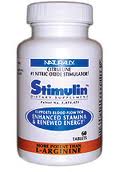 There have been several clinical studies conducted in the past decade concerning the use of l-arginine supplements to help boost libido. As a result, there have been a host of pills and capsules that have been introduced to the market, one of which is a product called Stimulin. This supplement promises to help boost l-arginine production, which in turn, will increase the levels of testosterone produced in the male anatomy. Read our review of this all natural product to get the low down on whether or not it will work to help increase your libido and bring your sex life back to new levels.
Review Summary
Stimulin is manufactured by a company called Naturally, which boasts a wide variety of sexual health supplements online. It is available in bottles of 60 capsules, which turns out to be a one month supply of the pill, at an average retail cost of around $18.
Some websites that we came across, most notably ron jeremys sex pill guru site, claim that this particular product will help you get bigger, but there is no conclusive proof or medical claims to back this up.
According to the unofficial website, stimulin offers a host of benefits, including an increase in sexual stamina, enhanced libido, and is one of the only products that contains the highly effective ingredient citrulline. Citrulline is an amino acid which acts as a precursor to nitric oxide production, which from a number of reliable studies, has a direct impact on testosterone production.
This works very similarly to an ingredient found in a related product called Naturally Huge, which uses l-arginine as it's main ingredient of action.
User Reviews
There have been no reviews posted online concerning Stimulin. We searched through a wide variety of discussion boards, including bodybuilding.com, and count not find anyone who has spoken about their experience with this particular supplement.  If you have used Stimulin, please contact us to submit your review.
Pricing and Availability
Stimulin is sold on a wide variety of retailers sites, including evitamins.com, vitasprings.com, and bodybuilding.com. There is apparently no official website for this product, and the average price is $18. As of this review, it does not appear to be available in stores, or backed by a guarantee.
Overall Review
While it is known that l-arginine is a natural precursor to nitric oxide, we simply could not find enough information concerning the amount of this extract contained in these pills. The average amount of l-arginine varies from product to product, but it is generally accepted that about 10 mg of this substance is suitable for most male enhancement supplements, but i is unknown how much is contained in Stimulin. Until more information is available, we cannot come to a conclusion as to the effectiveness of the product.
Click Here To See Our Top Choices For Male Enhancement
Leave Your Review of Stimilin Below