Once men hit the age of 30, they soon discover that their testosterone just isn't what it used to be. This may cause quite the collection of complications including increased fat tissue, decreased lean muscle mass, fatigue, depression, and loss of libido. Essentially, a nightmare formula to any man's ego. So what are your options? Well you can always visit your doctor and request those injections of pure testosterone that are going to cost an arm and a leg. Or you can change your diet, your exercise program, and start using a natural, less expensive supplement to get those testosterone levels back up.
Testosterone boosters have become quite the market for a population of men who are finding their bodies plagued with higher levels of estrogen than any other generation in history. The need for this manly hormone is understandable and science has been on a roll, revealing ingredients that can positively impact your t-levels. One supposed testosterone-boosting miracle is Superior Test X.
Makers of this supplement say that if you combine Test X with another product called Superior Muscle X you will see CRAZY results.  Let's take a look at the "superior" formula to see if this supplement is all talk.
The Ingredients In Superior Test X and How It Works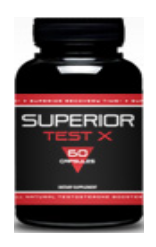 Things get interesting with this product right away as the official website does not offer a product label that details what exactly is in the product. The company is quick to list a number of supposed benefits including an increase in lean muscle mass, a huge boost in your sex drive, and an amplified energy supply, but they are not as quick to deliver the ingredients that make this possible.
There are three sections that you really have to search for that indirectly discuss a "formula." The first is the sound byte from the company in regards to the creation of the product. It states:
"The herbalists of Superior Test X have created a custom supplement formulated with ingredients specifically chosen for their ability to address problems of low testosterone and help you get your old self back."
Yeah, that helps. The other two locations that make mention of any ingredients is located at the very bottom of the page. You will see two individual links that claim to be valid studies on the product itself. Give a click to either one and what you get are two questionable studies reporting on the benefits of magnesium-creatine chelate and NOT Superior Test X.
From this, let's assume that the main, and possibly only, ingredient in Superior Test X is magnesium-creatine chelate.
What is Magnesium-Creatine Chelate?
Chances are, you've heard plenty about good old fashioned Creatine Monohydrate but you may not have heard much about this new form of creatine that bonds with magnesium to improve ingestion and assimilation. The theory is that Creatine Monohydrate bonds with a water molecule to enter into the body. In this process, much of the Creatine is lost, resulting in a low content level that eventually reaches the muscle. Magnesium-Creatine Chelate, on the other hand, uses a different pathway that is much more efficient.
It's not just a theory anymore. Studies have shown that Magnesium-Creatine Chelate stands out in terms of increasing performance. One study showed a clear difference between those taking Creatine Monohydrate, Magnesium-Creatine Chelate, and a placebo with the MCC group coming out on top. ("Magnesium-creatine supplementation effects on body water." 2003. Para. 1)
Benefits of Magnesium-Creatine Chelate
Aside from performance enhancement, Magnesium-Creatine Chelate was also shown to support increases in lean muscle mass, strength, and endurance. If you're familiar with the benefits of Creatine Monohydrate, this will not come as a surprise. Seems like something is missing though, doesn't it?
What is Creatine doing in a testosterone booster? Your guess is as good as mine. If it was paired with something like 3,3′-Diindolylmethane, otherwise known as DIM, then that would make complete sense. Creatine has been shown to support protein synthesis in the body. This benefit paired with the testosterone boosting effects of DIM would be a powerful combination, but again, this supplement does NOT contain this fantasy supplement duo.
To break it down: Superior Test X, assuming the main, and only, ingredient is Magnesium-Creatine Chelate would be completely ineffective as a testosterone booster.
Pro's and Con's

ADVANTAGES
DISADVANTAGES
No information on the actual product
Lack of credible reviews
The price and auto-ship enrollment (see below)
Where To Buy Superior Test X

The only place you can purchase Superior Test X is from the official website. When you jump onto the official website, aside from the ridiculous advertisements, you'll find that you can enjoy the wonderful benefits of Superior Test X for free! All you have to do is pay for shipping and handling, which is a small fee of $3.99. Look a little closer and you'll see in the fine print that you'll be signed up for a free 14-day trial.
If you do not cancel and return the product by the end of the 14-day trial, you will be charged $83.99. Oh, it gets better. You'll also be signed up for the company's monthly auto-ship program. That means you'll be receiving one bottle a month and your card will be hit with that modest fee of $83.99 every single month until you cancel. If you're not one to check your statement but once every few months, that is going to add up quick.
The same exact thing gos for Superior Muscle X…
Conclusion
If you've been reading this entire review, it's pretty apparent what my recommendation is going to be. If you're just joining us, I'll go over the finer points of this product. Just like its companion product, Superior Muscle X, this supplement is misleading, ridiculously priced, and gives a bad name to the fitness industry. You have absolutely NO clue what you are getting in this supposed testosterone-boosting supplement.
For some men, this is a potentially life threatening issue. If there is something in this product that you are allergic to or, even worse, that has a negative reaction with your current medication, you could end up sick or in the hospital. What's more, if you do try it out, you're automatically signed up to be billed an absurd amount of money each month. Let's say the main ingredient is Creatine: You're paying $83.99 for a supplement you can buy ANYWHERE for a fraction of the cost. To top it all off: Creatine does NOT boost your testosterone! Put simply: Save yourself time, money, and stress by staying far away from this company and product.
Leave Your Review of Superior Test X Below!
References

Brilla, LR. "Magnesium-creatine supplementation effects on body water." 2003. http://www.ncbi.nlm.nih.gov/pubmed/14506619. Web.