WydenZ Overview
Dave's Rating:   
Usually, a male enhancement supplement is either the kind you take every day so you're ready for action any time you need to be or the kind you take only right before the occasion.  The interesting thing about WydenZ is that it is both kinds.  The choice is yours.  If you want to stand ready any time, take it every day.  If you don't want to be bothered with a daily supplement, just take it an hour or so before go time. We found that intriguing, and decided WydenZ deserved a closer look.
The WydenZ official website is pretty informative.  They tell you the ingredients, how erectile dysfunction works, how WydenZ works, even how women like wider, not longer penises.  Ultimately, the claims WydenZ makes are the same they all make, that your erection will be thicker and harder, that you'll last longer, and that you'll gain the confidence that comes along with knowing that you can satisfy your partner thoroughly, and every time.
How WydenZ Works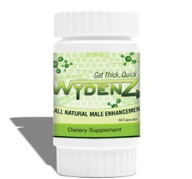 WydenZ works by increasing the flow of blood into your penis during sexual arousal.  The more blood that flows in, the wider your corpus cavernosa become, and the thicker and firmer your erections.  It's these harder erections that give you more thrusting power and the confidence that comes with the knowledge that you're blowing her mind.
If you choose to take WydenZ daily, take 2 pills each morning with a full glass of water.  If you want to just take it as needed, 2 pills about an hour before will do.
WydenZ Ingredients
The website lists all the ingredients in the formula and provides a little explanation of how they each work to improve your sexual experience (and hers). Some of the highlights are:
Tribulus Terrestris and Zinc to help increase testosterone levels.
Epimedium, Yohimbe, and L-Arginine for increased blood flow to the penis.
Niacin for extra sensitivity to the touch.
Maca for boosted libido.
Ginkgo Biloba for increases energy and endurance.
Saw Palmetto for improved prostate and overall reproductive health.
WydenZ Benefits
The ingredients are all natural.
There is a money back guarantee.
It contains several blood flow enhancing ingredients for better erections.
The website it informative.
WydenZ Drawbacks
The WydenZ formula contains Yohimbe which the FDA is recommending against because of its potential to cause serious side effects like erratic blood pressure changes and heart palpitations.
It's a little on the expensive side.
Aside from the testimonials provided on the website, we found no WydenZ reviews from guys who've actually used it.
Where to Buy
WydenZ is available through its official website.  A one month supply sells for $49.95. You'll save if you buy multiple bottles at once, and you can still use the money back guarantee since it applies to all unopened bottles in addition to 2 empty bottles.  Just make sure you follow the terms so you don't disqualify yourself from getting a refund.
Our Last Word on WydenZ 
If you're willing to use Yohimbe against the recommendation of the FDA, then WydenZ is a male enhancement supplement that you should derive some benefit from, especially if you suffer with erectile dysfunction.  If you do decide to try it, keep the guarantee in mind so you can make it a risk-free proposition.
Check Out Our Top Choices in Male Enhancement
Leave Your Review of  WydenZ Below