Formula T10 Overview
Low testosterone levels could indeed be the reason that you're feeling weak, sluggish, fat, tired, and disinterested. Certainly, that's what the makers of Formula T10 would have you believe. And truth be told, they may be right. As they tell you over and over in their marketing materials, your testosterone levels decrease by 1% each year starting at age 20. By the time you're 40, 50, or 60, that lose compounds quite a bit, and you're left with precious little.
Natural testosterone boosters like Formula T10 can help stem the tide.  It's not hormone replacement therapy or anything even close to anything that invasive, expensive, or risky.  It's simply a  way of encouraging your body's own natural testosterone producing mechanism to turn things up and produce that much more, so you feel better, look better, respond better to workouts, and perform better in all ways.
How Formula T10 Works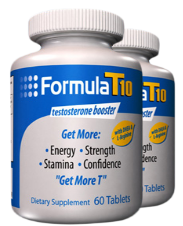 While Formula T10 is promoted mainly as a testosterone booster, a look at its ingredients shows that it's really an all-around revitalizer, meant to boost vitality in all sorts of ways from all sorts of angles.
As a daily supplement, the recommended dose is 3 Formula T10 capsules taken twice daily.  It is
stated that you'll feel some effects almost immediately in terms of a mood and energy boost.  But the full effects in terms of strength and stamina will take a few weeks to be revealed.
Formula T10 Ingredients
There is a long list of ingredients in Formula T10.  Only some affect testosterone levels.  These would be:
Eurycoma Longifolia which frees up testosterone that would otherwise be bound to Sex Hormone Binding Globulin (SHBG)and rendered useless.
DHEA which is a related sex hormone.
Stinging Nettle Extract which creates a favorable environment for testosterone production.
Oat Straw Extract which acts in much the same way as Eurycoma Longifolia, freeing up bound testosterone.
Tribulus Terrestris Root which works through the process of increased Luteinizing Hormone to signal the body to produce more testosterone.
Zinc which is a necessary co-factor to the testosterone production process.
Additional ingredients that increase vitality in other ways are:
L-Arginine to improve circulation through the mechanism of increased nitric oxide.
Sarsparilla Root for increased energy.
Saw Palmetto for improved prostate health.
Damiana Leaf and Muira Puama Extract for a libido boost.
Lycopene for its antioxidant qualities.
Withania Sonmifera for energy and strength.
Vitamins A, E, and C for their antioxidant properties as well as their contribution to overall health and wellness.
Formula T10 Benefits
It contributes to overall health and vitality.
The ingredients are all natural.
There's a 30 day money back guarantee.
All the ingredients are listed.
Formula T10 Drawbacks
·        There are no authentic customer-written Formula T10 reviews to help us learn how effective it is in the real world.
Where to Buy
You can purchase Formula T10 through the official product website.  A bottle contains 60 tablets, which would last 10 days.  The price for a single bottle is $34.99, but there's a Buy 1 Get 1 deal going on currently, so you'll get 20 day's worth for that $34.99.  There are also other package deals offering savings on bulk purchases.
Recommendation
There are certainly some effective herbal ingredients to be found in Formula T10, and as a result you'll probably experience some real benefit.  If you do choose to use it, I would recommend you buy a bulk amount so you can save yourself some money.  The money back guarantee applies to all unopened bottles returned within 30 days, so as long as you returned them all, the purchase would be risk-free.
My Top T Booster Choice – Testofuel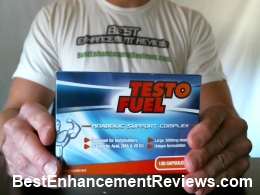 I have tried dozens of supposed all natural testerone boosters, and most of them just plain suck.
It's refreshing to finally come across one that ACTUALLY works for a change.
I recently got a chance to test out a 3 month supply of Testofuel, and my results were awesome.
Click Here to read my full review of Testofuel.
Leave Your Review of Formula T10 Below!