Note:  This is just a review.  Visit The Penomet Official Site Here
Penis Enlargement/Engorgement devices have taken the market by storm recently, and there seems to be no signs that it will be slowing down any time soon. I was never a big fan of vacuum based pumps, namely because of their potential for bruising and other side effects. With the introduction of water based pumps, however, it seems that many of the main issues with air vacuums have been solved by using water based systems instead. One recent water based PE pump I tried recently is called the Penomet device, which I have personally tested. Read my review below to learn more.
What is The Penomet Hydro Pump?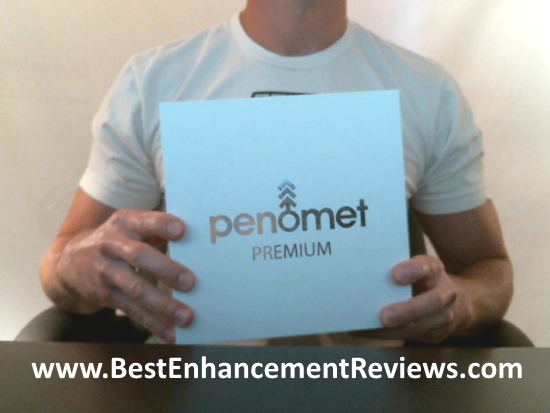 Similar to other penis enlargement pumps, the Penomet device is scientifically proven, water based, power free pump designed to help enlarge/engorge the penis.  It uses the theory of vacuum therapy, but instead of using air it uses water.  The theory behind this is that when you use a traditional air pump, the penis is engorged unvenely, which can cause enlargement/engorgement in some areas, but not in others.
Components of the Penomet Pump (This is the Premium Edition, not the standard or the extra versions)
1.)  Penomet Cylinder – This is the main part of the device which holds the water.
2.)  Pressure Gaiters (Premium Edition) – Comes in 5 different pressure gaiters (Force 60, 65, 70, 75, and 80, which attach to the cylinder.  Each force applies greater vacuum strength, which in turn is supposed to allow for increased growth.
At first glance your'e probably wondering which color means which, and penomet doesn't do a very good job of explaining this. They tell you to change the gaiters, but fail to tell you which one has the least suction and which has the most. I had to visit their website to find this out, and learned that the pressure goes in the following order, from lowest to highest: purple, blue, black, grey, and red.
They explain how to use these colors in depth on their website here.
3.)  Comfort Strap – The comfort strap is designed to be used in the shower, and it basically holds the Penomet Pump in place so that you can go about your normal shower routine.  I only used it a handful of times, as I like to use it when I'm in the tub, making it unnecessary. One thing I noticed about the comfort strap is that it tends to affect the seal, making it harder to pump effectively. It took a few shots for me to get it just right.
How Do You Use The Penomet Pump?
The directions are very simple.  Simply attach your preferred gaiter (beginners should start with the lowest possible force setting), and fill the unit with water or submerge in your bathtub and insert your penis in the cylinder.
Carefully pump the Penomet toward your groin area until a vacuum seal is created.  Repeat this process every 2 – 5 minutes, and wear for no longer than 20 min. in a 24 hour time period.
During the first few attempts, this may seem like an impossible feat.  The water seems to spill out of the gaiter, and your left with like 1/8 less water than what you had before.  That's ok, as it doesn't need to be completely full to use it.
The simplest way to solve this problem is to fill up your bathtub with water, and then sit down in it to attach the Penomet.  With the Premium version you get a comfort strap, which literally holds the device in place by using a strap worn around the shoulder.
My Results With The Penomet
Just like my experiment with the Bathmate Device, I followed the manufacturer's directions to the letter.  I have used penis pumps like the Hydromax X30 before, so this was nothing new for me.
I started seeing the results almost instantly…after using it for just 15 min. I saw a very noticeable gain of about 0.5 inch in length and 0.25 inch in girth.   Of course, as like with other pumps, as the hours passed by after I stopped using it I gradually lost the size gain.
I only used the Penomet for one month, and saw a decent size gain from it, but I think if your looking for more permanent and bigger growth you'll need to use it for more like 6 months.
What I

DIDN'T

Like About The Penomet
–      Changing the gaiters out was not very easy, and I had to use a water based lubricant to get the damn thing on.
–      While using in the bathtub was a cinch, using it while standing in the shower was not easy.
–      It's more expensive than most other pumps
What I

DID

Like About The Penomet
–      It is one of the most comfortable pumps I have worn.
–      I started noticing the results immediately.
–      Very easy to use (in bathtub)
–      Shipping was fast and discreet.
–      The different gaiter colors was nice, allowed me to start slow
–      Only need to use it for 15 min. a day
–      60 day money back guarantee
 Penomet Savings Tip!
Save $160 on the Penomet Premium Edition and get a 1 Year Money Back Guarantee
Penomet Vs. Bathmate: Which Is Better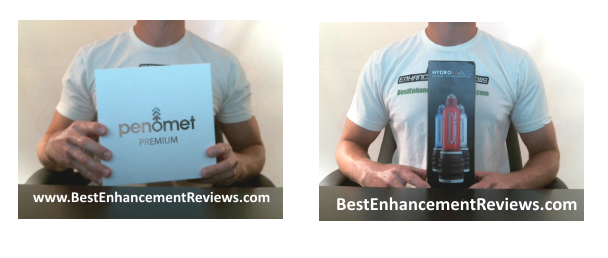 The Penomet and Bathmate Hydromax X30 look exactly the same…same overall construction, same ease of use, same style gaiters, etc.  The gaiter strength on the highest setting for Penomet is basically the same vacuum pressure as the Bathmate, and even the new shower straps are both equal in terms of ease of use.
There are 2 main differences that I noted between the Penomet and the Bathmate:
1.  Price Point – The bathmate comes out on top here, but only slightly.  The Bathmate Hercules (their cheapest option) comes in at $118.95, while the Penomet standard is $127.  Again, not a huge difference, but a difference nonetheless.
2.  Gaiter Strength – The Bathmate Hydromax X30 only offers one gaiter strength, while the Penomet offers 5 gaiters (premium version only).  This is advantageous because it is best to start at a low pressure gaiter when using it the first few weeks.  However, using the strongest gaiter on the Penomet was equivalent in strength to the Bathmate.
How Long Does It Take To Deliver?
In my case it took a bit longer than expected, because I had moved in between the time I ordered it, and the time it was shipped.  It arrived at my original address within 3 days of placing my order, but like I said I was out of there at that point. I won't get into why I didn't originally have it shipped to my original address, but I had to have Fedex change the delivery address (which they did at no charge), and got it within a day or so.
The simple answer is it takes about 3 – 5 business days from the date you order it.
And of course as always shipping is discreet.
Will I Get Permanent Results From the Penomet?
I get this question alot!  The manufacturers of Penomet categorically state that by using their pump you will see permanent gains of 1 – 3 inches, with a 30% increase in girth.  While this sounds like a myth, I'm beginning to think it's true…here's why.
You see, with traditional penis extenders like the Size Genetics device, they use the theory of cell division and multiplication to gradually increase the penis. With a pump like the Penomet, they are essentially doing the same thing, but instead of "tugging" on the penis, they are actually using pressure to stretch the penis, both in terms of length and girth. The beauty behind the Penomet is that they offer several gaiters instead of just one.
This is important for 2 reasons…1 is that you will reduce the risk of bruising by starting off with the lowest possible setting, and the other is that you will see a more gradual result. Enlargement takes time, and the slower and more gradual you do it, the better off your long term results will be.
Also, you need to realize that enlargement requires on-going maintenance. You can't just strap the Penomet on for 4 months and then completely stop using it! Think about it this way, if you were looking to lose 20 pounds, do you think you could lose that 20 pounds by eating right and exercising, and then when you've reached your goal you can go back to eating like a fat ass? Of course not, and the same applies to PE, even with the Penomet.
Recommendation
I think the Penomet is a great pump, and clearly proves that it is superior to most of the competition. Its sleek design, comfortable gaiters, and relatively low price point make it a top choice in my book. The only thing I would want to see improved is the comfort strap by making it so that it doesn't interfere with the gaiters seal. Overall, I say go for it!
Click Here To Visit The Official Penomet Website
Leave Your Review of Penomet Personal Review and Results Below