Progene Review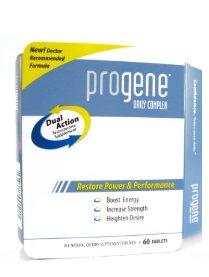 Like most male enhancement supplements, Progene promises to deliver fast results, and give you sexual stamina and energy far beyond what you have ever experienced. While it is not directly reported to give you enhancement qualities, it does contain a number of ingredients used in the most effective male enhancement pills.
After reading through various sources about this supplement, we decided to include it in our list of reviews. Read more about the ingredients, side effects, and user testimonials in our full investigative report. Skip To Our Results.
What Exactly is Progene?
As we age, our bodies natural ability to produce testosterone drops drastically. Progene is a tablet designed to help the male body produce more testosterone through a unique combination of ingredients. It is sold through several major retailers, including Amazon, and has been a featured advertisement in leading magazines. We actually tested another similar product, M drive, which makes many of the same claims as Progene, as far as effectiveness and results.
Its not uncommon for men to experience less energy, gain weight, and have a lower libido after they it their mid 20's. Progene works to counteract these problems in men by producing large amounts of testosterone. The ingredients in Progene include L-Arginine, Guarana Extract, Oat Straw extract, Maca, Damiana, and DHEA.
DHEA, which has been touted by the manufacturers of Progene to help boost testosterone levels, has not been shown in clinical studies to have any effect on testosterone production.
What is Progene Supposed To Do?
The theory that we lose about 1% of our testosterone levels per year after we hit the upper 20's is a correct one. The manufacturers of Progene say that their product is supposed to help reverse that, and help increase your energy levels, boost your sex drive, and make you feel like your in your 20's again.
Your supposed to take 2 pills a day and it is said to start working most effectively in about 2 – 3 months.  Learn more about how Progene works, as well as "if" it works, in our official video review:
Deceptive Billing Practices?
When we originally purchased Progene, it was actually in the form of a free trial, whereby I paid about $4.95 for shipping, and received my one month supply. According to the terms and conditions when I ordered, I had about 14 days to try the supplement from the date that I purchased it, and then had to call and cancel to refrain from being billed the full price of the product.
Some guys see this as unfair, and we have talked about this in several other articles and product reviews. The main problem with this billing method is that alot of guys feel deceived into getting what they thought would be a sample or Progene, not a "trial". The difference between a "trial" and a "sample" is that a trial expires at some point, and generally speaking you are billed the full price of the product. A sample is just that, a sample.
Reviews of Progene
There are dozens of reviews posted on their official website, as well as GNC and Amazone, and the majority of them look pretty good. The main complaint was the billing procedure which we talked about above, here is what one guy had to say about it:
"This product had no effect that I could see. I purposely dated my calendar in case I wanted to cancel my subscription. To my surprise, I was billed 1 week earlier and was told, too bad I should have read all the fine print and they were SORRY it wasn't explained that way over the phone when I set up the original free trial offer." rippedoff
Pros of Progene
Contains several very effective ingredients
Supported by clinical data
Nationally Recognized
Unique Formula
Cons of Progene
No Doctor Testimonials
Limited reviews available
Higher price range
Free Trial not really free
Overall Conclusion
Supporting your natural testosterone levels will most certainly help with male enhancement. It is a fact that the ingredients in Progene do help to enhance the bodies natural production of Nitric Oxide, which will in turn increase your sexual stamina. Be aware that there free trial comes with limited terms and conditions, so be sure to read the fine print.
Leave Your Review of Progene Below