Test Worx Overview  
Dave's Rating:   

It's pretty well accepted as fact that if your body has more testosterone you'll be fitter, faster, stronger, more energetic, and a better overall athlete.  But there's another part to the equation that's less well-known.  Huge stores of testosterone won't do you a bit of good  if it's all bound to fat cells.  What you need is an abundance of free testosterone.  And that's the focus of Test Worx.
With the kind of free testosterone increase you'll get from Test Worx, the benefits they tell you to expect are:
Decreased fat
Increased lean muscle mass and tone
More energy/less fatigue
Better mood
Heightened sexual well-being
Test Worx Ingredients and How They Work 
The formula for Test Worx is proprietary, but some of its components are revealed. They are:
LJ100 which is a particular extract of Eurycoma Longifolia with Glyco Saponins, Eurypeptides, and Tribulus Terrestris. This is the main active ingredient that both increases testosterone production and frees the testosterone that's bound to fat cells with SHBG (Sex Hormone Binding Globulin).  The Tribulus works on the production side, while the Eurycoma Longifolia works on the freeing side.
Nettle Root which also frees bound testosterone.
Maca which boosts libido.
L-Arginine which acts as a precursor to nitric oxide for relaxing smooth muscles and increasing blood flow.
Vitamin B12 and Zinc which have both been shown to be necessary for the process of making testosterone.
The dosing schedule is 2 capsules on an empty stomach each morning for 5 days on and 2 days off.  A bottle should take you through a 6 weeks cycle.  You should cycle off for one week before starting a new 6 week cycle.
Test Worx Pros and Cons
Benefits of Using Test Worx
It works to increase testosterone levels in two ways, by producing and freeing it.
There is a money back guarantee.
The website shows several testimonials.
There are plenty of positive independent Test Worx reviews from customers.
One bottle contains a 6 week cycle.
Drawbacks of Using Test Worx
No clinical tests have been performed on Test Worx.
There have been some reports of headaches and jitters.
It's expensive.
Where to Buy 
You can find Test Worx for sale online through a few different sites.  The official website sells one bottle (a 6 week cycle) for $59.95.  There doesn't appear to be a discount offered for buying multiple bottles.  The Amazon price is the same.
Conclusion 
Herbal testosterone boosters are a tough bunch to nail down.  Most of them use most of the same general ingredients, each with their own twist.  The result is that some work for some guys, while others work for other guys.  It definitely looks like Test Worx does work for some guys.  We generally wouldn't recommend that you start with something on the more expensive end of the scale, but with the money-back guarantee and the particular focus on freeing bound testosterone, we think Test Worx may be a good one to try.
My Top T Booster Choice – Testofuel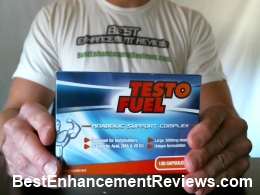 I have tried dozens of supposed all natural testerone boosters, and most of them just plain suck.
It's refreshing to finally come across one thatACTUALLY works for a change.
I recently got a chance to test out a 3 month supply of Testofuel, and my results were awesome.
Click Here to read my full review of Testofuel.
Leave Your Review of Test Worx Below