Test X180 Review
Dave's Rating (3.5 out of 5 stars):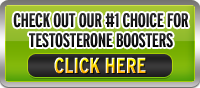 While we normally strictly test out all natural male enhancer's, every once in awhile we get asked to check out other supplements. In today's review, we will be talking about a product called Test X180, which is actually marketed as an all natural testosterone booster.
As you are probably already aware, Low testosterone is often the cause of erectile dysfunction in men, and millions of men suffer from this ailment every year. Up until recently, there have only been a handful of herbal products on the market that supposedlyhelp to increase Testosterone, and Test 180 is a relatively new arrival to the market.(Skip To My Results)
What is Test X180?
Marketed and distributed by the same company that brought you Force Factor (pre workout supplement), Test X180 is a testosterone booster that has actually been featured on several notable websites. In fact, Bodybuilding.com named it in it's 2011 "New Brand of The Year Award", which is partly not true because when we looked it up on their website (bodybuilding.com/fun/supplement-awards.html), it said that Force Factor actually won it. Ok, so the company that makes the product won the award, not officially Test X180, but you get the picture.
Anyway, the Test X180 website says that the clinically supported ingredients contained in their formula help to support the increase of muscle mass, boost sex drive and libido, and enhance performance. Obviously these are all factors that are influenced by Testosterone levels, but we wanted to know if the ingredients really do help, so we hit the internet to find out what the ingredients are.
Since this original formula has come out, Force Factor has pumped out a few other versions of Test X180, including Ignite, Alpha, and Tempest.
Unfortunately I haven't had a chance to personally test any of those out yet.
Test X180 Ingredients and Method of Action
According to various sources, the ingredients in Test X180 are Tribulus Terrestris, Panax and Siberian Ginseng, Cordyceps Sinensis, and Fenugreek seed extract. This apparently is the "growth enhancement matrix" which is guess is a fancy word for muscle building ingredients. It also contains Vitamin D, and Vitamins B6 and B12, both of which are common energy boosters used in energy drinks like Red Bull and Rock Star Energy drink.
So do the above ingredients in Test X180 really help to boost testosterone levels? Well, it is mentioned on several very credible sites that Ginseng and Tribulus can help to increase testosterone levels, but the other ingredients are a bit of a mystery. In addition, several other key ingredients that have been reported to effectively boost testosterone levels have been left out of Test X180.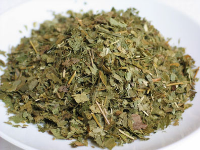 For example, Horny Goat Weed (pictured to the left), has long been held to increase blood levels of testosterone hormones, thereby increasing sexual performance. Unfortunately, this widely held ingredient has been left out of the formula.
Another important ingredient that wasn't mentioned was Mucuna Pruriens, which actually helps to increase levels of dopamine because it contains L-DOPA, a precursor to the production of the neurotransmitter Dopamine.
What Customers Are Saying About Test X180
Reviews for Test X180 were overall very mixed, but there were several guys that said they had great results with it, while others said it did absolutely nothing for them. In general, all natural products like these tend to have a wider variation of results amongst users, mainly because every guy will respond differently to them.
Here is a sample review of Test X180 we came across:
"Been using this stuff for about 2 weeks now and I feel a MAJOR difference in my overall energy levels. Before I started using it I felt like crap all the time, just very lethargic, no energy for the gym, no sex with the wife. This really helped alot by giving me a real boost in all areas, I will continue using Test X180 for the foreseeable future.
Our Results With Test X180
Since this product was not neccessarily a male enhancement product, but promised to help with low libido issues, I decided to try Text X180 out myself. I ordered a trial package of the pills and it arrived in my mailbox just a few short days later. The trial bottle cost me abour $4.99, and the trial would end about 14 days after I placed my order.
The 14 day trial really isn't a 14 day trial because they only give you enough pills for 7 days, so I don't know if that is just a marketing error on their part or what. Also, be aware that the trial only lasts for 14 days, and once that trial is up they end up sending you a one month supply of the product, as well as charge you around $50.
All in all, Test X180 was an OK supplement, but I didn't see any massive changes. As far as increasing muscle mass or getting me more ripped I didn't see anything like that, however I did notice an improvement in my overall mood. I also felt like I slept a little bit better, but I'm not sure if I can directly attribute it the Test X180.
Where To Buy Test X180
Currently, Force Factor is running a free trial of Test X180 on their site, but be careful because the free trial invariably involves being entered into an auto-shipment program. We have written about numerous products that use this type of auto-billing program, read more about how it works in our related article.
It is possible to purchase a month supply of Test X180 from numerous retailers, including GNC. They happen to sell it for about $70, which makes it a pretty expensive product. When compared to other natural testosterone boosters like Progene and Maximor, it is about 50% more expensive.
Test X180 Recommendation
It's too early for us to tell conclusively whether or not Test X180 will actually work to increase testosterone levels. While it does contain a couple of ingredients that show promise, the simple fact is that it is missing some key herbs and extracts that have been shown to increase testosterone effectively. Why the manufacturer left those ingredients out of Test X180 we may never know, but the bottom line is that it may or may not work for you. We have ordered a trial portion of Test X180, and expect to update this review in about 3 weeks.
My Top T Booster Choice – Testofuel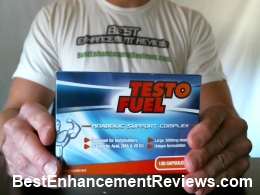 I have tried dozens of supposed all natural testerone boosters, and most of them just plain suck.
It's refreshing to finally come across one thatACTUALLY works for a change.
I recently got a chance to test out a 3 month supply of Testofuel, and my results were awesome.
Click Here to read my full review of Testofuel.
Leave Your Review of  Test X180 Below