Biotest Tribex Review
Dave's Rating:   
All serious bodybuilders want to raise testosterone levels.  But with side effects and drug tests, many choose to go the natural route.  Levels don't go through the roof, but they could get a bit of a bounce.  Once you make the decision to go natural, you've got so many choices, it'll make your head spin.  One way to narrow it down is to look only at natural testosterone boosters that have been clinically tested.  If so, you'd look at Biotest Tribex, as it was rated "#1 In The World" by independent study group ChromaDex.
Biotest Tribex uses natural herbal ingredients to increase the amount of testosterone your body creates and uses naturally.  And when you've got more testosterone, you've got more muscle, more energy, more stamina, better recovery times, and even more libido as a bonus.  Biotest Tribex has been around a long time, so there's a lot of information out there.  We've sorted it all out and come up with a good idea of whether Biotest Tribex is worth your time and money.
Biotest Tribex Ingredients and How It Works 
The Ingredients in Biotest Tribex are fairly standard when it comes to natural testosterone builders:
Tribulus Terrestris from Bulgaria which is said to be the most potent there is.Tribulus causes your body to secrete more Luteinizing Hormone which triggers greater testosterone production.
Eurycoma Longifolia is an aphrodisiac that increases libido, but also plays an important role in increasing the presence of free testosterone. Most of the testosterone in your body is bound up in fat cells.  Eurycoma Longifolia helps free it from these bonds.
Avena Sativa is extracted from oats, and it also helps free up bound testosterone.
The recommended dose is to take 1 or 2 tablets twice a day, approximately 8 hours apart. It is also recommended that you cycle Biotest Tribex either 4 weeks on and 2 weeks off or 5 days on and 2 days off.
Biotest Tribex Pros and Cons  
Benefits of Biotest Tribex
The ingredients are all natural.
It is relatively affordable.
It's been rated the top testosterone booster.
There are several positive Biotest Tribex reviews from guys who've gotten good results.
Drawbacks of Biotest Tribex
There is no money-back guarantee that we could find.
The ingredients list is short and not exactly cutting-edge.
Where to Buy 
While we couldn't find an official website for Biotest Tribex, there are several online retailers who sell it.  Generally, we found the 74 count bottle which should last about a month selling for about $35 which puts it pretty much in the mid-range for similar products.
Conclusion 
While indeed we find it impressive that Biotest Tribex is an award-winning product, we find little else that stands out here.  The ingredient list is pretty lackluster, and the customer reviews are quite mixed.  In the end, Biotest Tribex will probably work for some guys, but not all.  And given the lack of a money-back guarantee, we'd recommend you go with something with a higher chance of working for you.
My Top T Booster Choice – Testofuel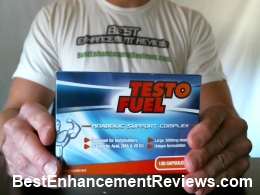 I have tried dozens of supposed all natural testerone boosters, and most of them just plain suck.
It's refreshing to finally come across one thatACTUALLY works for a change.
I recently got a chance to test out a 3 month supply of Testofuel, and my results were awesome.
Click Here to read my full review of Testofuel.
Leave Your Review of Biotest Tribex Below