Elite Test 360 Overview
We pretty much all know that boosting testosterone levels will help you out in both the gym and the bedroom.  But just in case any of you aren't familiar with the situation, I'll give you a brief recap.  Testosterone is the primary male sex hormone.  It's what makes a man a man.  When you're young, your body produces loads of it.  As a result, lean muscle is easy to build and sex drive is endless.  As you age, your body's testosterone producing mechanism slows down.  When this happens, it's harder to gain muscle, easier to gain fat, and sexy thoughts diminish.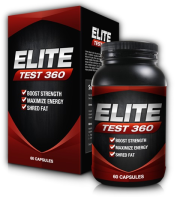 If you want to counter these effects, one option is to take a natural testosterone boosting supplement.  Elite Test 360 is one of your many choices.  Websites reviewing and selling this stuff are all over the internet.  And their not shy about sharing the benefits you can achieve by using Elite Test 360:
Insane Stregth
Maximized Energy and Endurance
Increased Definition
Enhanced Sex Drive and Performance
Sounds like a winner, I'd say.  But we should look at the formula and how it works before making our final assessment.
Elite Test 360 Ingredients
There are two active ingredients in Elite Test 360:
Tribulus Terrestris for boosting testosterone levels.
Amino Acids for boosting nitric oxide levels.
How Elite Test 360 Works
The simple formula uses just 2 ingredients because they are each known for serving a speicific purpose.  Tribulus Terrestris increases testosterone by first signaling to the pituitary gland to secrete more Luteinizing Hormone.  LH is what then signals
to the testes that more testosterone is needed.  Amino Acids, like L-Arginine, act as a precursor to nitric oxide. Nitric oxide is a vasodilator which allows for the delivery of increased oxygen and nutrients to your muscles.  As a bonus, it also allows more blood to flow to your penis during arousal, for better erections.
The recommended daily dose for Elite Test 360 is 2 capsules.
Where to Buy
Elite Test 360 is widely available online.  It basically works like this.  There are a bunch of review sites telling you how great
Elite Test 360 is and showing pictures of what your body could look like if you took it.  Then they invite you to click the link to order it.  These are not real reviews.  They are advertisements trying to get you to buy.
Elite Test 360 is available for regular purchase as well as through a "free trial offer".  While a free trial sounds good, you've got to be careful with these.  If you order the trial and don't call to cancel within 14 days, they charge you for the "free" product and sign you up for automatic monthly shipments (and of course payments as well).  If you choose to buy it straight out, a one
month supply sells for $89.99, while a 5 month supply sells for $139.99.  It doesn't make much sense really, but it's clear they are trying to sell you the bigger packages.
Elite Test 360 Benefits
·        The formula has got a couple of good ingredients.
Elite Test 360 Drawbacks
·        The marketing is shady.
Recommendation
Elite Test 360 is a product I'd recommend you stay away from.  It belongs to that category of bodybuilding and male enhancement products that are really only out to prey on innocent guys just looking for an edge.
My Top T Booster Choice – Testofuel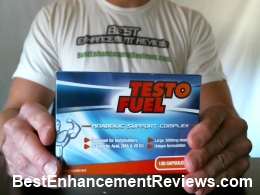 I have tried dozens of supposed all natural testerone boosters, and most of them just plain suck.
It's refreshing to finally come across one that ACTUALLY works for a change.
I recently got a chance to test out a 3 month supply of Testofuel, and my results were awesome.
Click Here to read my full review of Testofuel.
Leave Your Review of 

Elite Test 360

 Below!