TestoForce Overview
Dave's Rating: 
TestoForce is a testosterone boosting supplement that is currently being very heavily advertised on the internet. There are "articles" and "reviews" for this stuff popping up all over the place – on pseudo-magazine sites as well as on social media. Here's the thing. This is a full court press advertising method, and its goal is not to inform you, but to get you to buy the product. I'll expalin.
There's a website called "MensHealthOnline."  They would like you to believe that they are affiliated with the legitimate magazine called Men's Health.  But they are not.  MensHealthOnline exists only to sell a product, in this case TestoForce.  You can also find TestoForce through several other review sites linking you to the opportunity to try it by enacting a free trial offer.  We'll talk more about that later.  For now, let's look at the actual TestoForce product.
How TestoForce Works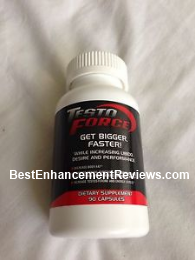 TestoForce can help you build muscles and gain an all-around better looking and more healthy body primarily by boosting your body's natural testosterone production process.  As men age, our bodies produce less and less testosterone until eventually (usually in our mid 30s to early 40s) we start to see and feel the effects.
We have less energy.  It's harder to put on muscle.  It's harder to take off fat (and easier to put it one).  And we have less energy and inclination in the bedroom too.  TestoForce, by increasing testosterone levels in the body naturally, can reverse all that.
If you start using TestoForce, you'll set off sort of a chain reaction.  The increased testosterone will give you more energy and stamina in the gym, you'll do more and harder reps, you'll get more out of your workout.  Your body will have an easier time losing fat and gaining muscle.  And as a couple of side notes, you'll be in a better mood and have more and better sex.
TestoForce Ingredients
Nowhere on the TestoForce website are the ingredients listed, but we did track them down listed in a bodybuilder forum discussion.  I can't be sure they're accurate, but it's the best we have so we'll go with it.  The TestoForce formula includes:
L-Arginine which is very common in bodybuilding supplements. It increases the release of nitric oxide which dilates blood vessels, allowing more oxygen and nutrients to be delivered to the muscles during workouts.
Tribulus Terrestris which signals the pituitary gland to release extra luteinizing hormone, which in turn signals the testes to produce more testosterone.
L-Carnitine which is an amino acid, like L-Arginine and works in much the same way. It also enhances the ability of the muscles to use free testosterone.
Pine Bark Extract which works together with L-Arginine to produce the best vasodilation results.
Vitamin D3 which is important for overall health as well as bone strength.
Where to Buy
The primary way to purchase TestoForce is through their official website, which offers a few different options.  If you want to buy TestoForce straight out, you can buy a 1 month supply for $99.99 plus shipping.  You can also take advantage of the bulk order discount by buying 2 and getting 1 free.
A third way to go is the free trial offer.  You pay only shipping for a 2 week trial.  If you like the results you're getting, do nothing and you'll be charged $99.99 for the trial bottle.  You'll also be enrolled in their monthly auto-delivery program where you'll receive and pay for a new bottle each month.  This trial offer is explained in the fine print, but lots of guys miss the details until it's too late.
TestoForce Complaints
Without looking too awfully hard, we found lots of complaints about TestoForce, mainly in the area of sales, billing, and service.  They've got an F rating with the Better Business Bureau, they've got files on several independent company complaint websites, and there are whole discussions about show they try to rip you off on several bodybuilding community forums.  Basically, when you order TestoForce using the free trial offer, expect to have to pay something to cancel the ongoing charges.
Recommendation
The ingredients is TestoForce are nothing particularly special, and nothing you can't find in plenty of other (and cheaper) workout supplements.  The price they want you to pay for this formula (which they themselves don't even disclose) is outrageous.  There are plenty of useful, affordable supplements out there.  TestoForce is simply not one of them.
My Top T Booster Choice – Testofuel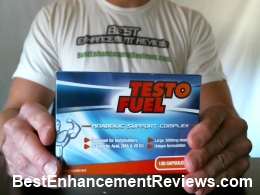 I have tried dozens of supposed all natural testerone boosters, and most of them just plain suck.
It's refreshing to finally come across one that ACTUALLY works for a change.
I recently got a chance to test out a 3 month supply of Testofuel, and my results were awesome.
Click Here to read my full review of Testofuel.
Leave Your Review of 

TestoForce 

Below!